Fyxt Wins "Preventative Maintenance Solution Of The Year" Award from PropTech Breakthrough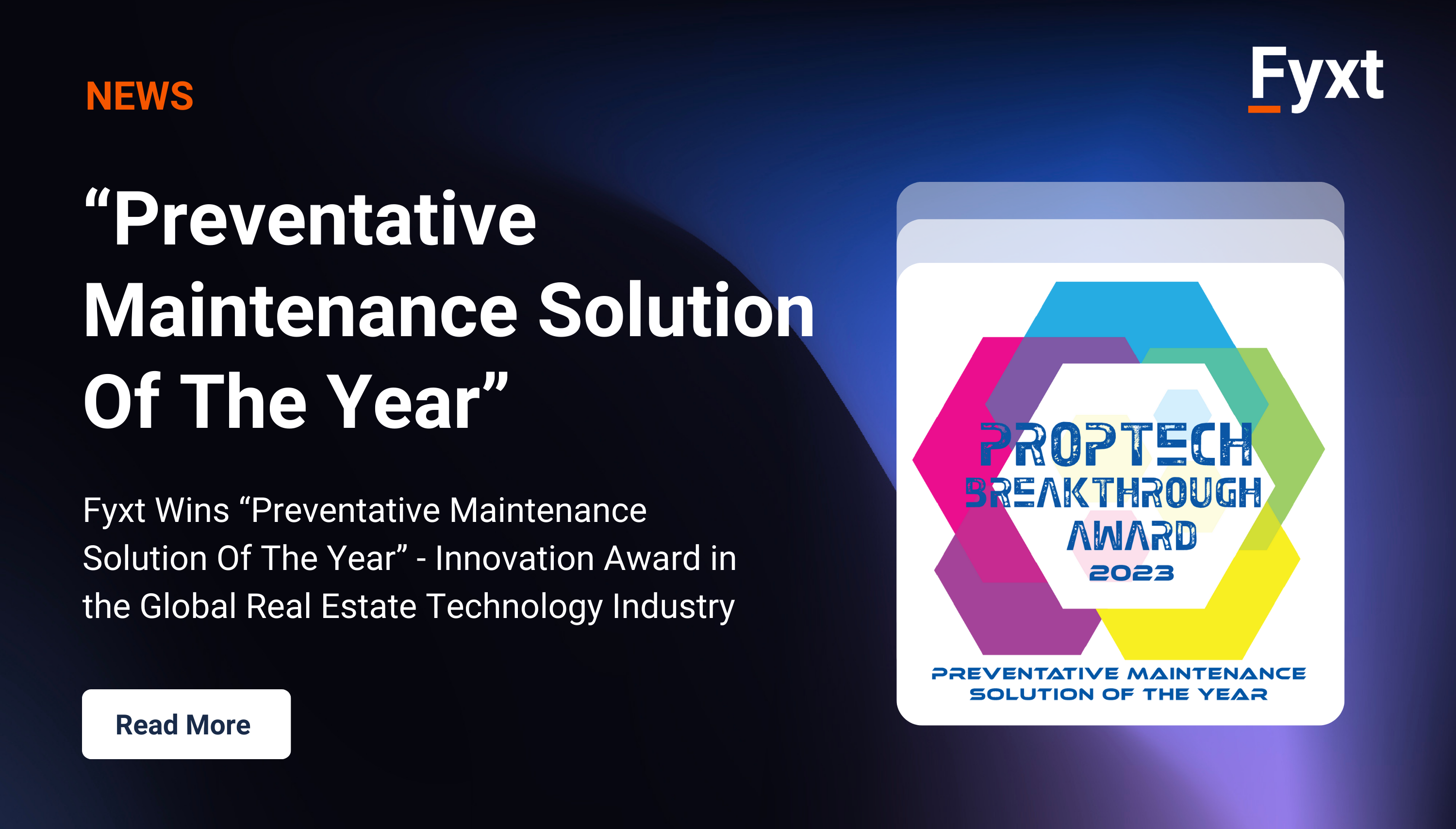 We are excited to announce that Fyxt, a leading cloud-based operations platform for commercial real estate (CRE), has been named the "Preventative Maintenance Solution Of The Year" by PropTech Breakthrough. This annual awards program conducted by PropTech Breakthrough recognizes the movers and shakers in the global real estate technology industry, and this year, Fyxt has stood out from the crowd.
A Breakthrough in Preventative Maintenance
Our comprehensive suite of maintenance management solutions goes beyond maintenance tracking and planning, offering a robust system that encompasses end-to-end preventative maintenance management, innovative equipment management to protect and extend the life of valued assets, and seamless workflow automation.
Furthermore, our lease digitization solution gives users a clear understanding of lease-mandated maintenance responsibilities, broken down by the landlord, tenant, and other relevant parties.
With Fyxt, you get a unified solution designed to optimize every facet of maintenance management, ensuring efficiency, collaboration, and longevity in all your operations.
The Power of Data and Collaboration
With Fyxt's "Service Planner," commercial property managers, landlords and investors get access to a warehouse of invaluable data across the portfolio, covering service history, photos, inspection checklists, and more. This customizable feature is designed to meet the unique needs of enterprise clients.
In the words of our CEO, Ryan Botwinick "We understood that for preventative maintenance to truly work, it takes a combination of efforts across multiple teams, inside and outside the organization… Every property is different, and with our solution, you can double-down on preventive maintenance to enhance the durability of assets and reduce downtime caused by equipment breakdown."
An Unprecedented Recognition
The PropTech Breakthrough Awards program is renowned for conducting a thorough analysis of the real estate technology industry's top companies, solutions, and products. This year, the program attracted over 1,700 nominations from more than 12 countries.
Bryan Vaughn, Managing Director of PropTech Breakthrough Awards, praised Fyxt by stating, "Fyxt is an incredible breakthrough technology in preventative maintenance. Historically, teams had to waste time managing vendors, and tracking jobs while drowning in maintenance requests. By predicting and budgeting for maintenance more accurately, properties can plan for anticipated downtimes to ensure minimal impact on tenants. Fyxt centralizes, streamlines, and optimizes operations to empower teams to deliver an unmatched level of service to tenants."
A New Chapter for Fyxt
This prestigious award marks a significant milestone for us, reflecting our relentless commitment to revolutionizing commercial real estate operations. More than just a maintenance management solution, Fyxt is an all-in-one comprehensive platform designed to tackle the diverse and complex challenges faced in property management.
To explore more about Fyxt and how it can transform your real estate operations, visit www.fyxt.com.
Thank you to PropTech Breakthrough for this incredible honor, and to all our team members, clients, and partners who have made this achievement possible. Together, we're reshaping the future of commercial real estate! 🎉
PropTech BreakThrough link: https://proptechbreakthrough.com/
— All of us at Fyxt | 8/10/2023