Managing commercial property means lots of planning and a sharp eye for detail. You oversee the whole building, including every individual unit. Each tenant space might be modified, and lease contracts can vary based on earlier discussions. Some contracts include added maintenance, building amenities, or utility benefits, making your role even more intricate.
Handling building maintenance is no small task. Usually, a whole team works on ensuring the property stays in top shape. But there's a way to simplify things.
Enter property maintenance management software. With features like auto-scheduling, tenant request handling, and equipment tracking, management gets a whole lot smoother. Though such software is used in various sectors like hotels, schools, and more, this article focuses on its benefits for managing commercial property maintenance. Dive in to discover the best property maintenance management software options to boost your maintenance game.
1. What is maintenance management?
Maintenance management is a structured approach to preserving commercial properties in top-notch condition. Without this systematic oversight, minor issues can escalate, leading to significant setbacks.
Experienced commercial property managers understand the value of diligent maintenance. They've witnessed the repercussions of neglect: dripping roofs, malfunctioning HVAC systems, or recurrent plumbing issues. To maintain a large building or complex efficiently, a proactive and attentive maintenance approach is crucial.
If you're a property manager, use this checklist to perform regularly scheduled maintenance of commercial assets to preempt unexpected failures. Read on to learn more about the different types of maintenance management strategies.
2. How to develop a maintenance strategy?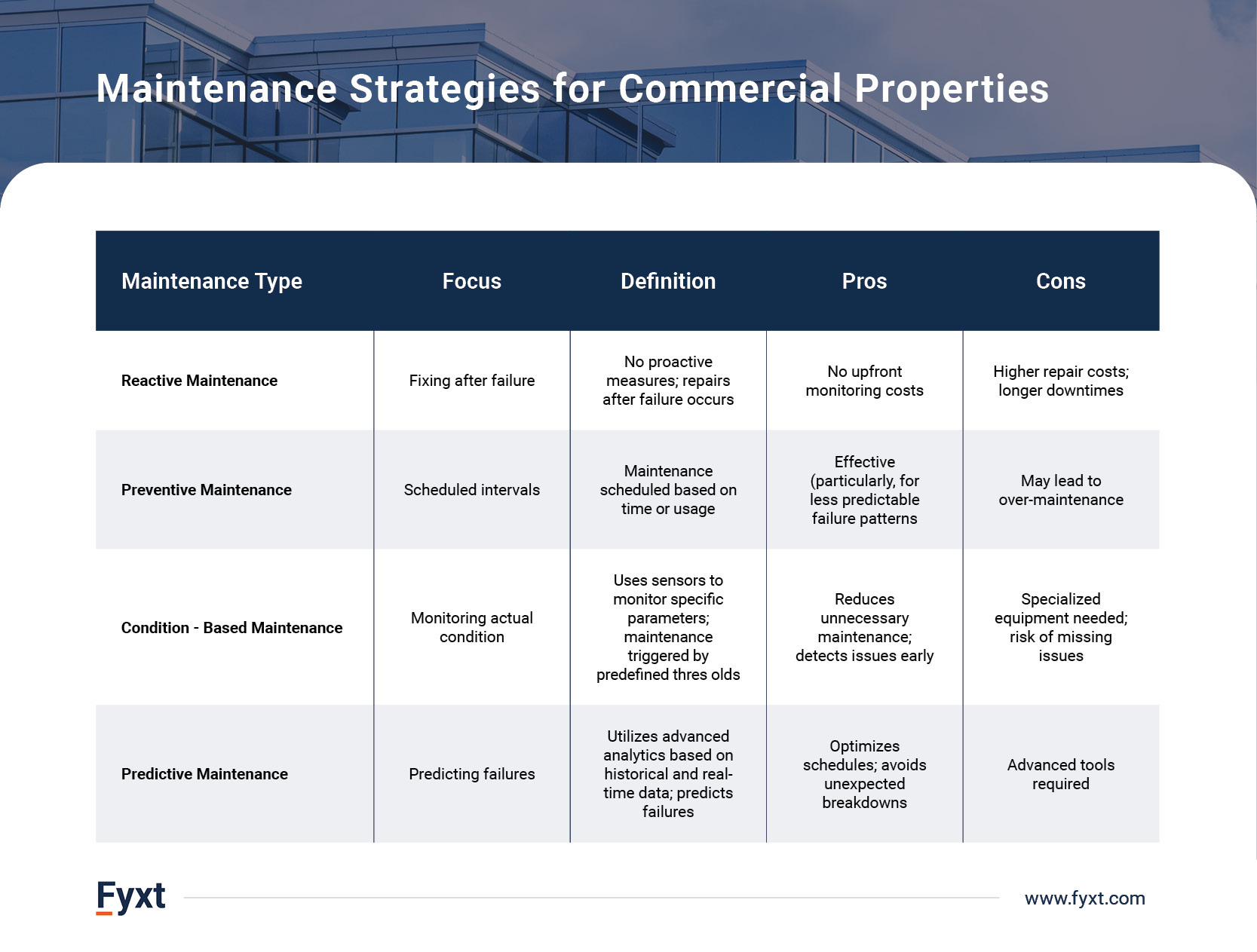 Overseeing commercial real estate, especially with intricate net-leases, demands a methodical maintenance strategy considering numerous variables. Here is a 6-step process that you can use as a guideline to developing a comprehensive maintenance strategy.
Begin by taking a comprehensive look at your properties. What's the current state of all the equipment, building structures, and common areas?
Define your operational, safety, financial, and compliance goals.
For net-leases, explicitly outline the responsibilities and obligations of both the tenant and the landlord. Who is responsible for what, and under what conditions?
Choose the right maintenance approach (reactive, preventive, predictive, and condition-based).
Implement or update a property maintenance management software to streamline processes and improve efficiency. Unsure if you need a standalone maintenance management tool or a holistic solution addressing multiple commercial real estate challenges? Let this audit checklist guide your decision.
Monitor, evaluate and report.
3. What is maintenance management software?
We've dived deep into the complexities of commercial maintenance operations. Undeniably, overseeing an entire facility's upkeep, whether by an individual or a team, is a massive undertaking, especially for expansive portfolios. Traditionally, these duties were managed manually or using basic spreadsheets. Yet, with today's technological advancements, innovative software solutions are streamlining processes, saving considerable time and effort.
Property maintenance management software introduces intuitive dashboards and advanced tracking features that finally make it possible to streamline your commercial maintenance operations. Leave the clunky spreadsheet behind. Stop using a half-dozen different apps to keep your team coordinated while maintaining a large commercial facility.
4. What is preventive maintenance software?
Preventive maintenance software helps property managers schedule regular checks, cleanings, tweaks, fixes, and replacements for systems and equipment. Top-tier software includes features like workflow automation, automatic reminders, service requests handling, inventory management, and in-depth reports.
Further Reading:
5. What are the basic functions of maintenance management software?
Maintenance Scheduling and Tracking
Maintenance scheduling is crucial to avoid neglecting any part of a building or its equipment. Commercial property managers often juggle calendars, ensuring every maintenance aspect is addressed timely.
With property maintenance management software, you can record all details, reuse them for future planning, and access past checklists. Just input each asset and its maintenance timeline. The software will track upcoming tasks, send reminders, and can even auto-generate work orders when due. This helps automate regular maintenance, preventing equipment breakdowns and prolonging their life.
Work Order Management
A property management team must keep track of all maintenance requests for the building. This can involve dozens of contractors and vendors responsible for various elements of building maintenance. Property maintenance management software offers solutions to scheduling, tracking, and managing work orders, including assigning tasks to vendors and monitoring their progress.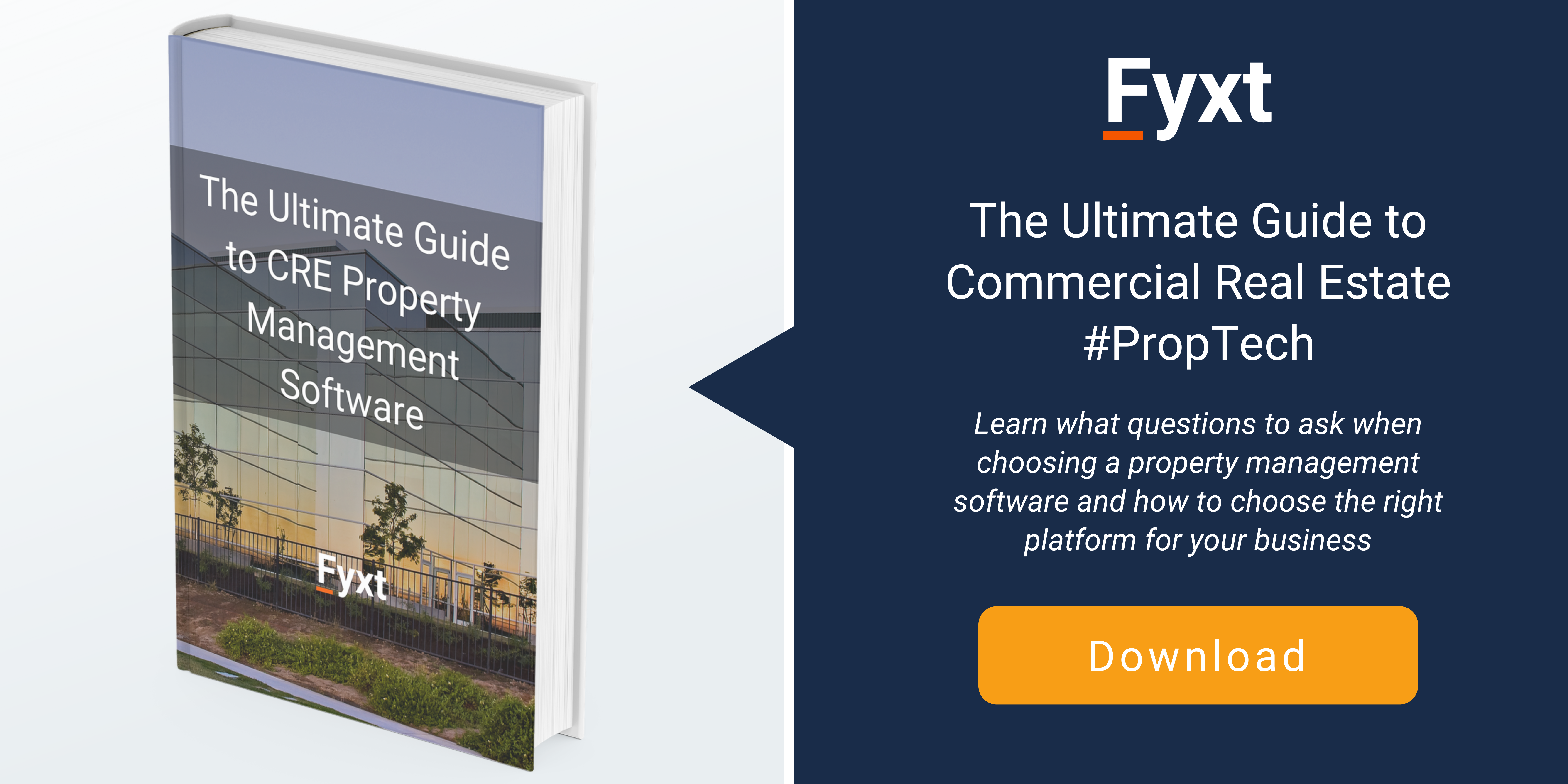 Equipment Management
As a commercial property manager, you probably remember the days when equipment maintenance tracking meant sifting through physical logs, spreadsheets, or paper files. This approach often led to miscommunication, missed maintenance schedules, and a lack of real-time insights. Today's automated solutions to equipment maintenance have changed the game completely. These modern platforms are cloud-based and are capable of automating scheduling, tracking equipment maintenance, workflow optimizations, and more.
User Permissions and Security
Controlling who has access to what within the system, ensuring that sensitive information is only available to authorized users. This also includes strong authentication methods, encryption of data, and compliance with relevant regulations and standards.
Customer Support and Training
Many systems offer support and training to ensure that users can make the most out of the software. This includes offering educational resources, set up guides, as well as providing 24/7 customer support to address immediate concerns. Ensure your target plan includes support for custom implementation, data transfer, and API integration if your team needs them.
6. What makes a great maintenance management software in 2024?
Tenant Communication
In commercial portfolios, property maintenance management software often serves as a property management portal. Top-tier software integrates a tenant-vendor communication feature, making it easier for property managers to handle and update work orders. Ideally, some systems allow tenants to submit requests without logging in, streamlining the process and boosting tenant satisfaction.
Mobile Accessibility
Enabling all stakeholders (PM's, service providers, tenants) to access work orders, instructions, and other necessary information through mobile devices, often even in offline mode.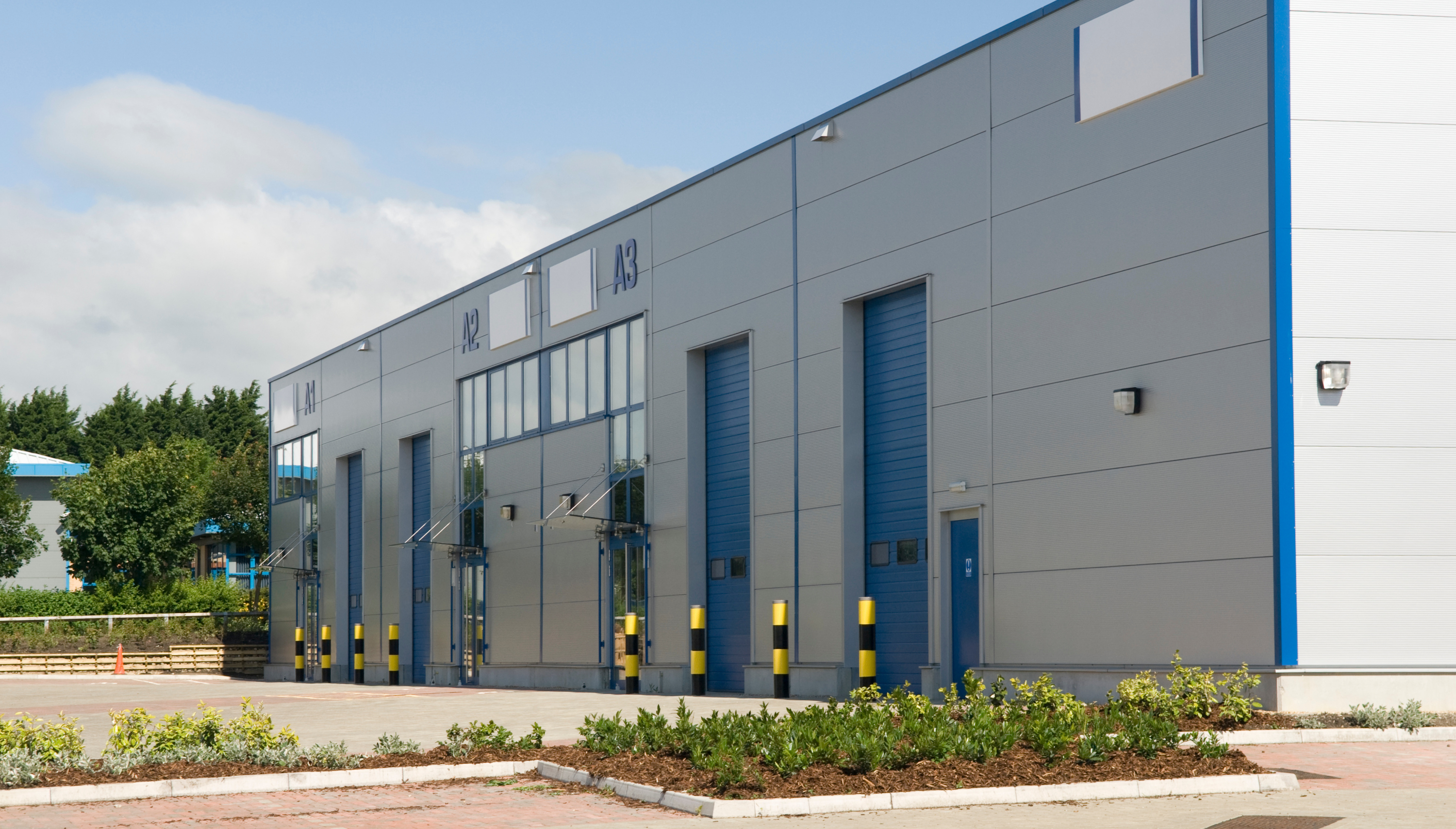 Integration with Other Systems
Connecting with other enterprise systems like ERP or accounting software to ensure seamless data flow across your teach stack. It's worth noting that while many platforms claim to offer integrations, the actual experience can vary significantly. If the integration is not well-executed, it leads to glitches and disruptions in data flow. When choosing a property maintenance management software, make sure it offers not just the integrations you need, but ones that are robust and integrate seamlessly, ensuring smooth operations.
Vendor Management
With the most advanced property maintenance management software, property managers can easily manage all facets of vendor management, from vendor procurement and managing contracts to overseeing the bidding process and streamlining invoicing.
Predictive Maintenance
Some of the leading maintenance management systems utilize artificial intelligence to analyze data and predict when equipment is likely to fail. This proactive approach allows for timely intervention, reducing downtime, and saving costs.
Advanced Analytics and Custom Dashboards
Providing detailed reports and insights into maintenance operations, empowering managers to track real-time progress, identify trends, and make informed decisions about their portfolios.
Customizable Workflows
The ability to tailor workflows to specific processes and scenarios is a hallmark of the best property maintenance management software. This flexibility lets property management teams tailor automation to their specific maintenance needs, resulting in heightened efficiency and reduced costs.

7. How does maintenance management software cut operational costs?
Maintenance costs often come from inefficiencies, especially when maintenance was overlooked, and a critical asset or piece of equipment damages as a result.
For commercial property managers, property maintenance management software offers a strategic advantage that results in overall better performance and significant savings in operational costs. See how Transwestern cut their operating expenses by 30-40% by implementing the Fyxt software.
Here are the areas where a commercial property manager can expect cost savings by deploying a property maintenance management software:
Automates planning, reducing breakdowns and emergency repairs
Timely maintenance extends asset life, delaying replacements
Improves energy efficiency
Reduces downtime through early issue detection
Boosts tenant satisfaction, lowering vacancy-related costs
Centralizes information, streamlining processes
If you're an asset or property manager, this checklist will help you assess the present condition of your commercial property operations, pinpoint areas of improvement, and uncover opportunities to expand your portfolio.
8. 11 Best Property Maintenance Management Software: Reviewed and Compared
We analyzed 11 maintenance management platforms in terms of their feature set, integration capabilities, ease of use, and customer support. We gathered data from the companies' websites and from third-party review sources such as SoftwareAdvice, GetApp, G2, and Capterra.
1. Fyxt
Fyxt is a premier cloud-based property maintenance management software tailored for commercial real estate portfolios. The Fyxt platform optimizes and streamlines maintenance operations in one central place. With its comprehensive suite of features, it brings simplicity and efficiency to every facet of maintenance management.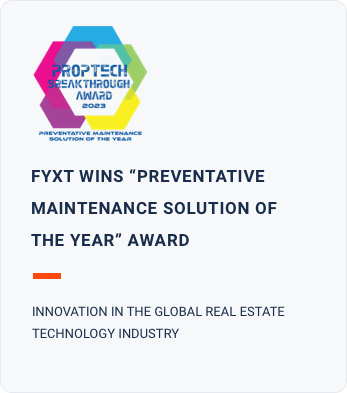 Fyxt has been named "Preventative Maintenance Solution Of The Year" by PropTech Breakthrough, an annual awards program that recognizes innovation in the global real estate technology industry.
With Fyxt, managing maintenance becomes a breeze. Its intuitive dashboard effortlessly compiles crucial data – from jobs and assets to equipment and work-order histories. What truly sets Fyxt apart is its adaptive workflow automation. This isn't just about streamlining routine tasks, but tailoring processes to suit each property management team's unique needs.
But Fyxt isn't just about maintenance. It's a holistic toolset crafted for commercial property management and operations teams. Beyond its top-tier maintenance management features, Fyxt equips teams with advanced tools for lease administration, property insights, financial operations, and risk management.
Another noteworthy advantage? Every Fyxt client receives a dedicated Customer Success Manager – at no extra cost. And their 24/7 customer support ensures smooth onboarding, data migration, and consistent support – all without any hidden fees, regardless of your portfolio's size.
2. MaintainX
Known for its mobile-first approach, MaintainX offers strong on-the-go maintenance management capabilities. With their custom dashboards feature you can create reports and get insights into critical metrics in real-time, compare performance across teams and locations.
That said, some users have voiced concerns: limitations in data editing, restricted ticket control for non-admin users, certain mobile app constraints, and challenges with integrating vendor collaborations and accounts payable.
Access to some crucial features such as detailed and unlimited work orders, as well as advanced analytics, is restricted to the upper tier packages, which start at $49 per user, per month.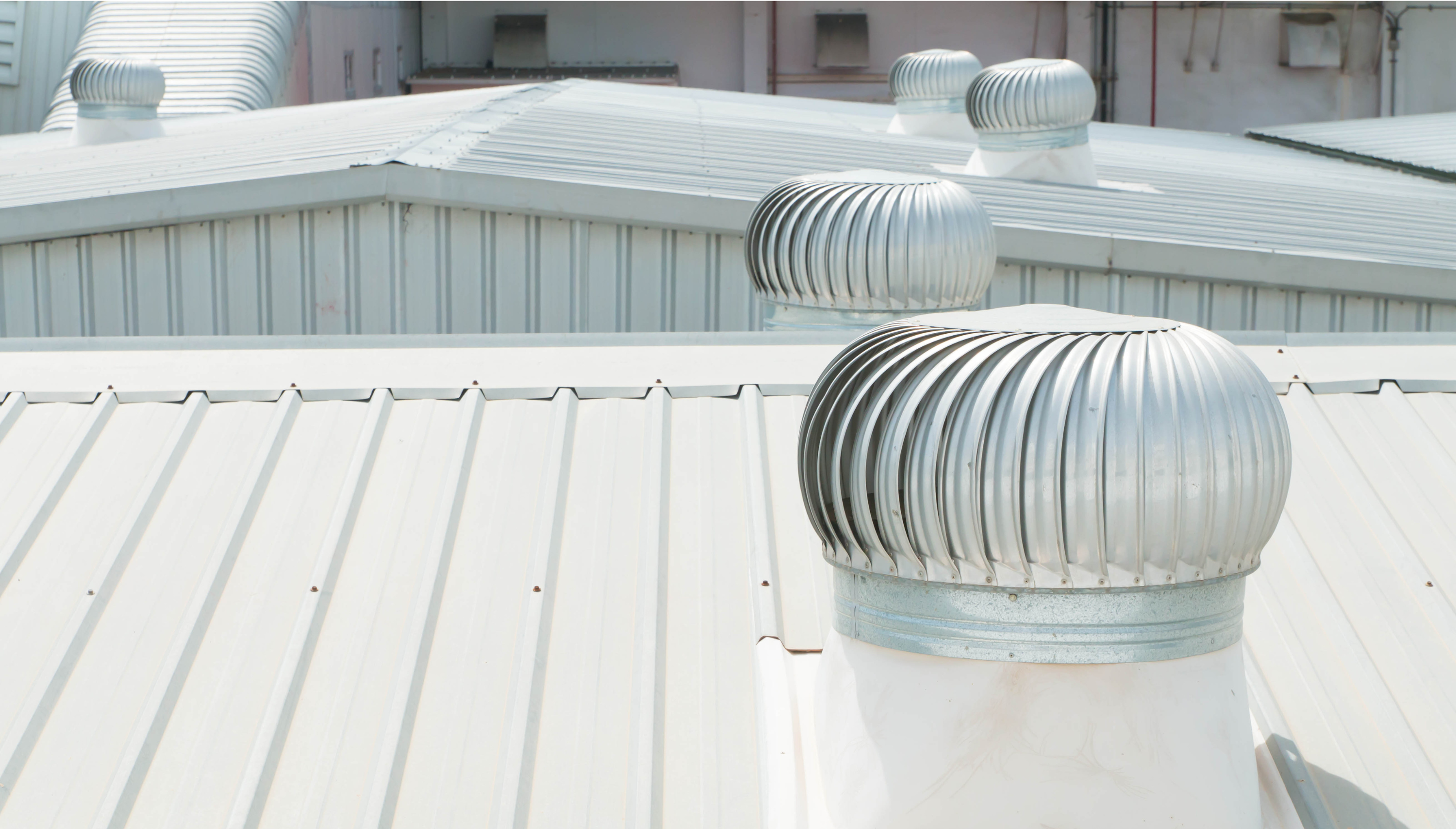 Access to some crucial features such as detailed and unlimited work orders, as well as advanced analytics, is restricted to the upper tier packages, which start at $49 per user, per month.
3. FMX
FMX provides configurable maintenance and facilities management software to boost productivity and reduce costs. The platform streamlines work order resolution, organizes preventive maintenance, and centralizes equipment and asset management in one user-friendly system. FMX is a great maintenance and facilities management software for K-12 schools, higher education institutions, and municipalities.
4. Fiix
Fiix's cloud-based maintenance management software streamlines the planning, tracking, and optimization of maintenance tasks. Fiix software offers features to organize assets and inventory, manage work, and integrate with business systems.
For property managers with mixed commercial portfolios, Fiix's specialization in oil & gas, manufacturing, food & beverage, and heavy equipment industries may present a drawback.
Plans start at $45.00/month.
5. UpKeep
UpKeep's specializes in work order management, parts & inventory management, safety & compliance management, asset management, preventive maintenance, analytics & reporting, and request management.
UpKeep boasts robust features for handling maintenance tasks, but falls short when it comes to a comprehensive commercial property management approach. It misses the mark on vital functionalities like lease management, financial operations, risk management, and elevating tenant experiences. This limitation might make it less appealing for property managers in search of a one-stop solution for the multifaceted realm of commercial real estate management.
Some users have reported occasional glitches and performance hiccups with UpKeep. They've also noted challenges in searching by descriptions and inconsistencies with analytics, especially when recognizing child assets linked to parent assets. Furthermore, customer support appears to be a sticking point for some, especially those using the free version. Additionally, the platform seems to miss the mark on some key features, like tracking downtime effectively.
Plans start from $45 per user, per month.
6. eMaint CMMS
eMaint CMMS is a cloud-based software designed for maintenance management, offering features such as work order management, workflow optimization, and predictive maintenance scheduling.
Some users reported lack of support and usability of the software, frustration with too many workarounds and steps required for simple processes.
Plans start at $69.00 per user, per month.
7. FTMaintenance Select
FTMaintenance Select is a web-based CMMS that serves organizations of various sizes and industries. It offers features for managing work orders, equipment and facility maintenance, schedules, and includes a mobile app with data accessible offline. Some reviews show the platform has limited default reports, finicky modules, and a lack of versatility in choosing or editing visible fields.
8. Limble CMMS
Limble primarily targets the manufacturing sector with its mobile-first maintenance management solution, offering functionalities like work orders, preventive maintenance, asset management, and spare parts inventory.
Users are generally happy with its customer support and the software's customization capabilities. However, there have been mentions of a disjointed follow-up work order process and issues with work request notifications. While Limble might serve as a potent tool for enhancing efficiency in maintenance management, property managers might find its features not entirely tailored to the unique demands of larger commercial portfolios, given its core focus on manufacturing.
9.Corrigo (a JLL company)
Corrigo offers an integrated suite of maintenance management tools for field service providers, designed to streamline work order management and automate maintenance tasks. The key features include: work order management, asset management, open peer-vetted network, replace vs repair recommendations.
10. Coast
Coast is an all-in-one maintenance management tool, with features that allow users to create and assign work orders, manage assets, track parts inventory, schedule preventive maintenance. Coast offers a free plan suitable mainly for occupiers, particularly in the hospitality sector. This free plan comes with limitations on workspace permissions and file uploads. More advanced features like custom workflows, dashboards, and exports are available in their higher-tier plan, starting at $38 per user, per month.
While it serves the hospitality industry well, it may not offer the comprehensive capabilities that commercial property management teams typically require.
11. Maxpanda CMMS
Maxpanda CMMS is a cloud-based maintenance management solution. The system offers integrated tools for asset, inventory, and preventive maintenance management.
Maxpanda offers additional features like push notifications for updates, email notifications for work orders, 3rd party integration, and unlimited user roles. It's important to note that the API integrations and KPI dashboard features are limited to the advanced plan options. Also, keep in mind some users reported consistent issues such as crashes, slow performance, and lack of reporting functionality.
Plans start from $129/month.
9. What property maintenance management software is the best?
Fyxt is the best maintenance management software for commercial real estate property managers, landlords and investors. With Fyxt's award-winning solutions, your team can schedule maintenance, centralize asset data, optimize vendor management, streamline property inspections, and enhance tenant-vendor communications, ensuring all data remains secure and organized.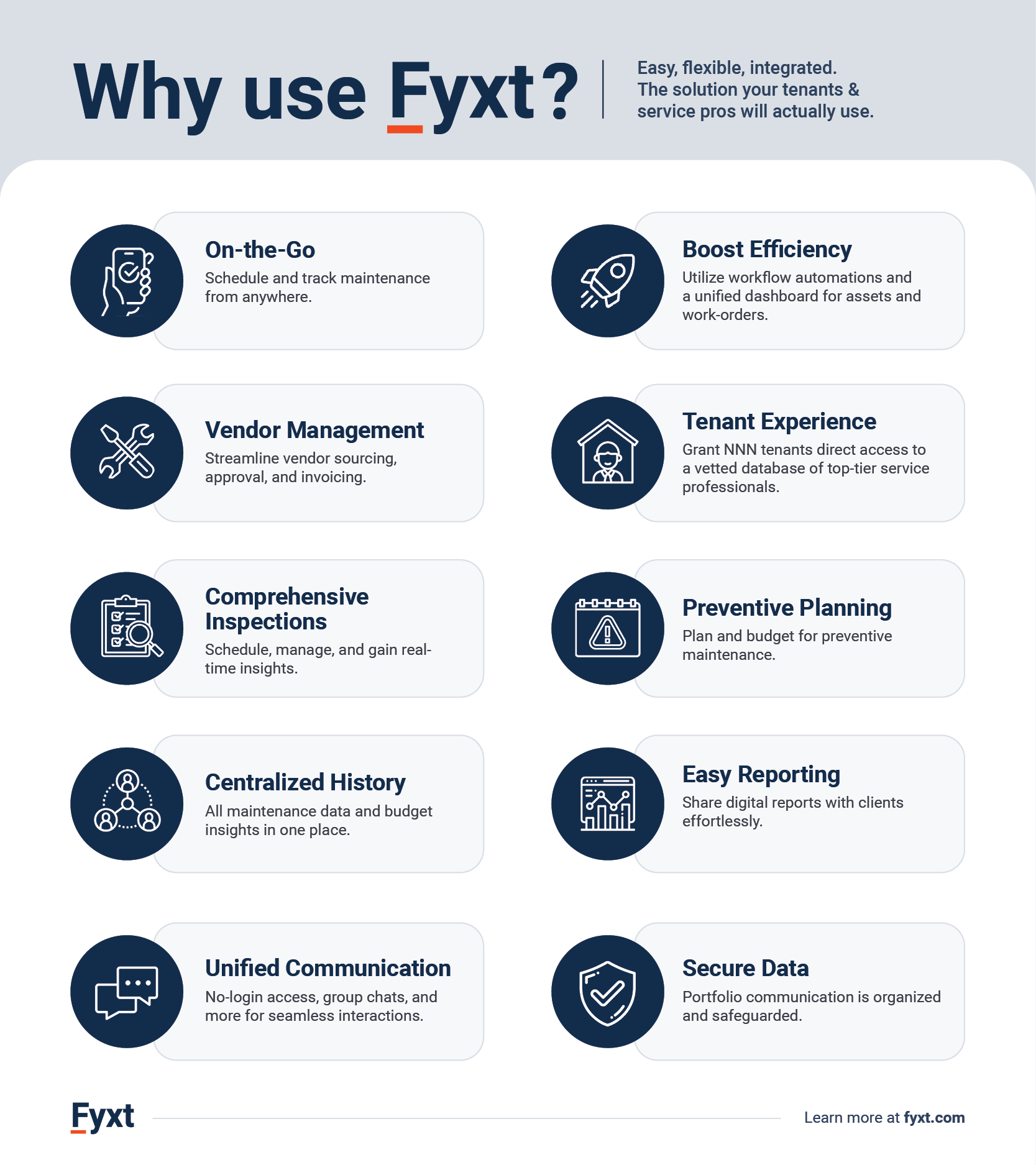 And there is so much more to Fyxt! Fyxt offers a full suite of solutions for commercial property managers, landlords and investors.
As an all-in-one platform, Fyxt excels in areas beyond maintenance, including lease administration, financial operations, risk management, information management and reporting. Contact us today to learn more.